About company
Filling number of touroperator "Innovations.Business.Travel."("I-B-T" LTD ) is PTO 008997.
The main activity of our company is complex service and consulting corporate clients with the purpose of planning, organization and providing business trips in Russia and abroad.
MICE – business meetings and conferences, incentive programs and exhibitions in Russia and abroad;
Organization of forums, seminars, conferences in B2B format all over Russia and abroad;

Organization of concert and corporate programs;

Assistance in search of potential business partners in Russia;
Invitations to Russia for foreign tourists and businessmen;
Reception of foreign delegations, tourist groups, individual tourists in Russia;
Leisure, excursion programs, mountain-skiing tours and cognitive tours in Russia and abroad;
New types of tourism in Russia: thematic, expeditionary, military-historical and industrial tourism, geological, ecological, medical, religious, manor tourism;
Organization of non-standard programs, concerts, including of choirs, symphony and instrumental orchestras on the sites of the famous historical places of Moscow and St. Petersburg;
Booking of air tickets, hotels and transport, VIP - halls in airports in Russia and abroad;
Concert and theater tickets, guaranteed of VIP seats;
VIP charters
We are convinced that business should be built on mutual respect, honesty and transparency of intentions. Openly discussing the terms of cooperation, we always find solutions from which both sides win. It is to this interaction that we invite our partners and customers.
Implemented key projects:
Russian-Korean Business Matchmaking Meetings 2010-2014, Moscow
Russian-Andorra Business Matchmaking 2013, Moscow
Russian-Swiss Business Matchmaking 2013, Moscow
Business Trip with B2B sessions 2014, Suwon, South Korea
Croatian-Russian Economic Conference and Banking Forum 2015, Opatija, Croatia
Economic Forums 2016-2018, Small and Medium Business, St.Petersburg;
Reception in Russia a group of fans from Egypt to attend matches of the World Cup in 2018;
Reception in Russia a group of businessmen from Italy to visit the international exhibition PIR Expo 2018 in Moscow
Professional achievements:
Victory in the nomination "Tourist services" in the annual competition "Moscow Enterpreneur-2015", MEA
Laureate in the nomination "The best organizer of conferences of conferences abroad "Russian Business Travel&MICE 2016", Chamber of Commerce and Industry of the Russian Federation, Publishing House "Turbusiness"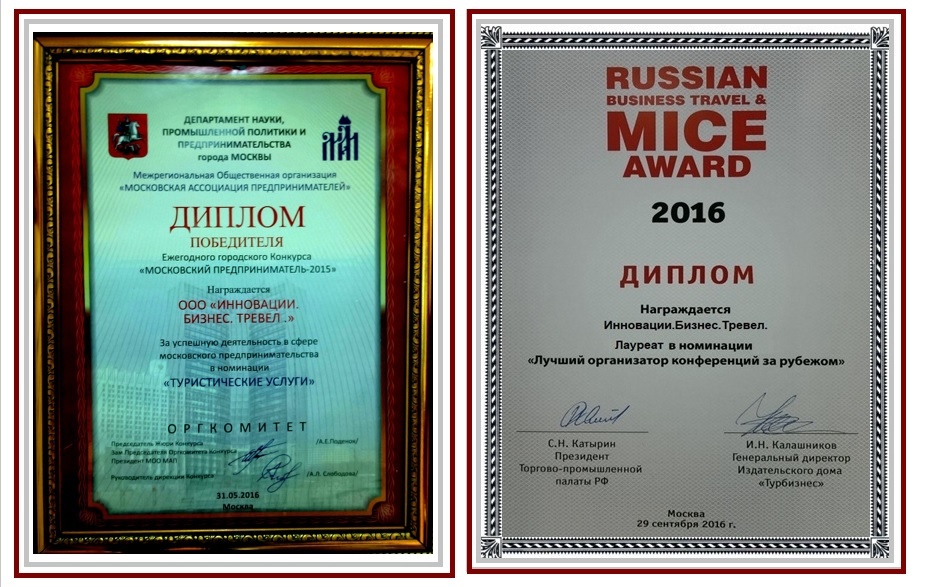 Download a brief presentation about the company "Innovations.Business.Travel." in PDF-file: